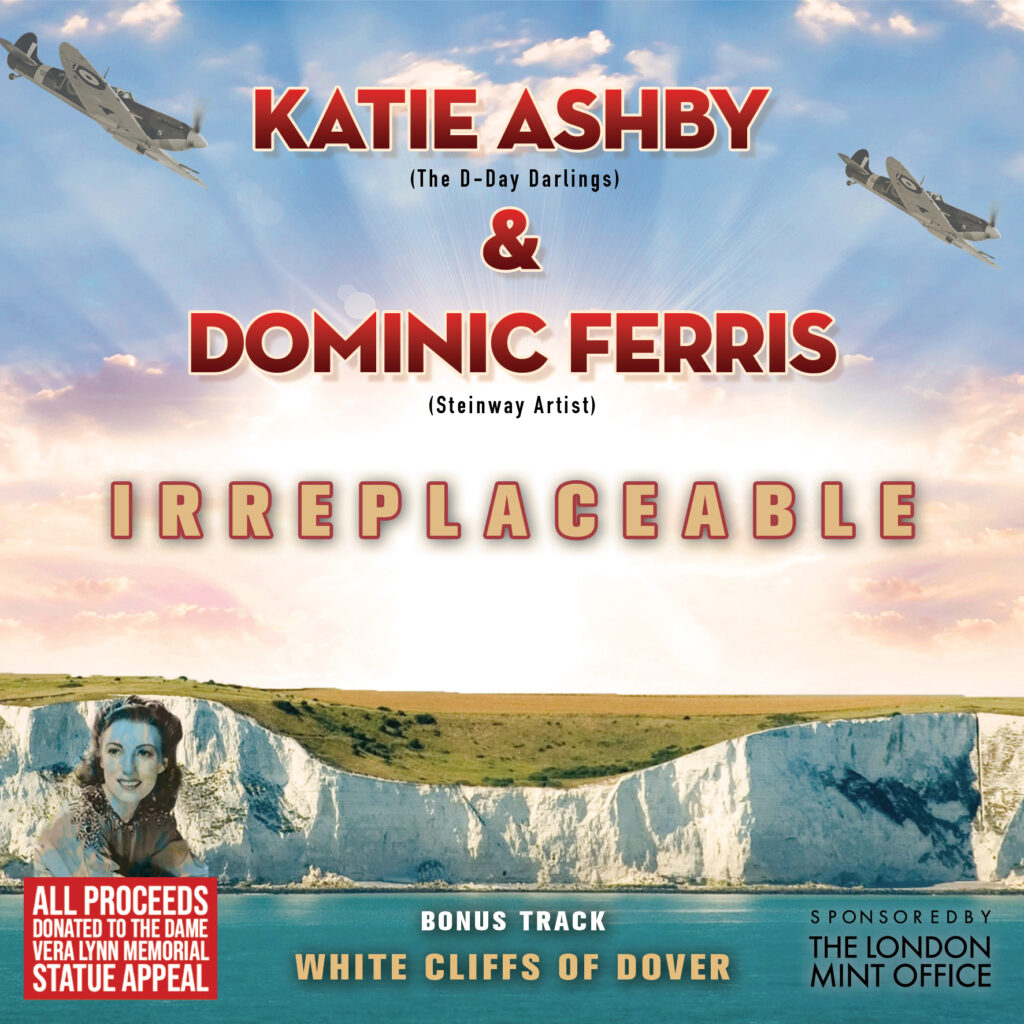 Dame Vera Lynn will be honoured with the premiere of a new song tribute at the launch of an appeal to build a Memorial Statue in her memory.
 "Irreplaceable", sung by Katie Ashby who is best known for her group D-Day Darlings on television's Britain's Got Talent, will be released on June 18, exactly one year after the much-loved Forces' Sweetheart died.
Katie will also perform the song most closely associated with the legendary singer, "The White Cliffs of Dover", accompanied by award-winning musician, composer and performer Dominic Ferris.
The performance will be staged at the press launch of the appeal on June 18 at the Coastguard, Dover. Both songs will be available for download from 17 June for £1.98 from Amazon, iTunes and other outlets, with all proceeds going to the Dame Vera Lynn Memorial Statue Appeal.
Vicki Lee, a close friend of Dame Vera, wrote the new song. Vicki, from Palmerston North, New Zealand tours North and South Island singing Dame Vera's most popular numbers. She said: "The lyrics to 'Irreplaceable' completely capture the essence of Dame Vera Lynn. For it to have been chosen to honour her at this time is truly significant on a personal level given my own journey honouring the generation to whom her music meant so much, and from the point of view that it universally connects us all to her incredible legacy".
Yorkshire-born Katie Ashby so loved the music of Dame Vera Lynn that she formed the D-Day Darlings to pay homage to the era, forming strong links with the military and the Royal British Legion.
In 2018 the group reached the live finals of Britain's Got Talent and a two-album record deal with Sony Music followed, achieving a top five position with their VE Day Celebration edition album in 2020.  Katie said: "There are no words to describe the pride I feel being able to record and perform these beautiful songs in honour of my biggest inspiration. The song "Irreplaceable" perfectly describes how we all feel about Dame Vera and it unites the world in our love and appreciation for her. The "White Cliffs of Dover" has a very special place in my heart. The song represents the beacon of hope and light Dame Vera was, and still is today, for so many people. The statue of Dame Vera on the white cliffs is the perfect home for her. It will give the world a place to pay their respects and remember the remarkable legacy she has left behind. Singing these songs, on the first anniversary of her passing will be a breath-taking moment for me."